FOR the SOPHISTICATED SUCCESSFUL & SPOILED
Established in London, Tess Van Ghert is a luxury accessories and jewellery brand, defined by exquisite design and impeccable craftsmanship.
Tess Van Ghert's timeless, sophisticated leathergoods collection celebrates femininity and elegance. The collection encompasses the brand's unmistakable trademarks, from a natural suede-lined interior to an impeccable finish. Each bag in the collection is limited edition, with only 10 of each being produced ever. However, some pieces are even rarer being one-offs.
The limited edition handbags are made from the finest exotic leathers, ranging from alligator to stingray, python and lizard skins, which are handpicked from Italy's best tanneries. All handbags are meticulously handcrafted in a family owned Florentine factory where each detail is carefully overseen by the discerning eye of the craftsmen and the designers. Anchored by femininity, Tess Van Ghert's elegant handbags have a discreet labelling, letting the quality and design speak for themselves, while resonating with fashion-forward women, globally. 
Tess Van Ghert jewellery ranges from everyday effortless jewels that become indispensable to the wearer, featuring barely-there fine chains and delicate diamond rings, to investment pieces that add an instant wow factor to any outfit. Each piece on its own is complete but it can also be easily layered and mixed and matched to create unique combinations.
Behind the mysterious name is a talented team led by a Mother and daughter duo. Augustina and Kristina have chosen to stay behind the scenes and let their fictional muse - powerful and bold 'Tess Van Ghert' take center stage. For the designers, Tess embodies incomparable elegance, chic and sophistication: youthful yet timeless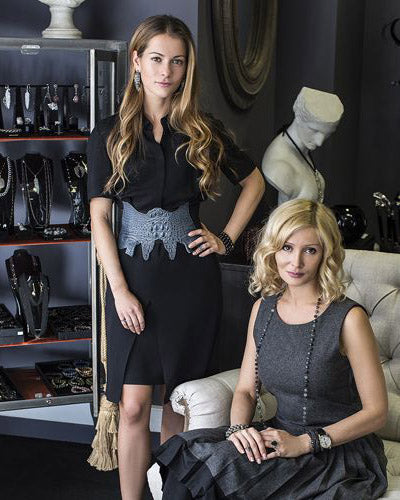 The brand has established itself in boutiques in some of the world's most renowned shopping destinations such as Paris, Monte Carlo, Courchevel, Forte dei Marmi and St. Barthelemy.
Tess Van Ghert's creations manifest a contemporary vision of true luxury, offering our clientele immaculate attention to detail, individuality and the exemplary execution that they deserve.
In 2023 the brand launched a capsule collection of luxury 100% organic silk scarves, as well as a warmer selection of wool and cashmere stoles. These feature elegant mono and dual tone designs, as well as an artistic play on the brand's signature logo.